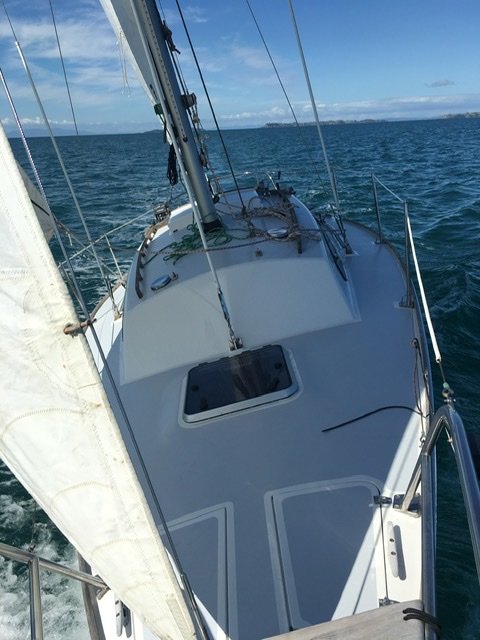 Content Count

82

Joined

Last visited

Days Won

2
Community Reputation
17
Neutral
Recent Profile Visitors
The recent visitors block is disabled and is not being shown to other users.
The guys who put my windows in used Fix200 https://www.fixtech.com.au/shop-product/marine/fix200-silicone---310ml-cartridge There's some interesting adhesives on their site https://www.fixtech.com.au/shop/marine/index

Both Harken(Fosters) and Burnsco have them at Westhaven. Go by the name of " track inserts"

I too have been enjoying your posts Aa Having a Spencer With much the same issues at one time or another. Re prop shaft packing, I went around the inevitable circles, looking at the various packing materials. In the end I stuck with the hemp, it served well the 10> years and in keeping with my mandate KISS, have enjoyed another 10 years with only twice having to tighten the packing flange..Next time will be a repack. Next on my list is an anchor winch, that damn anchor just gets heavier and heavier.

It has been a fantastic race of trial and tribulation, enormous respect for those that have done it. You've gotta love Samatha Davies finish though.

The internet has both gainsayers and naysayers, this was the first search result that popped up. https://www.sabireviews.com/williston-force-ac-review/

I did the same as Fish using Sika 291, the trick is too do the last tighten after it's hardened but before it's fully cured. And tighten the nuts not the screw of course

Excellent news, LEC has KE aboard.

5M seas would be a challenge alright ! I assume LEC did'nt get close enough to throw a rope, or it was unsafe in those seas to tether the raft without being able to transfer KE ?

Seems the foils are all about downwind sailing, up and planing. Boss is doing a consistent 2-3knts on Cam. Would be interesting to know how much of that is attributable to foils.

I've been following Jean Le Cam, he's holding his own against the new boats. There's a good piece on him on the Vendee globe site. https://www.vendeeglobe.org/en/news/19915/yes-he-cam Seems like the Eastern fleet didn't loose too much by heading south early So when do the foilers have the advantage ?

I may be wrong but I understand the foils on the IMOCA boats are Dali profile intended to provide lift and resist leeway, still depending on a canting keel for stability. The AC boats are interesting, and the AC35 was great to watch, but I don't relate to the AC boats zooming past me in the Hauraki Gulf as anything related to what I'm doing save for the fact that they are using sails. Anyways enough of the thread drift. I see the Vendee fleet all struggling to clear the NW tip of Africa, just as well they didn't take me as a navigator

I do love the Vendee challenge, the best of yacht racing since the demise of the AC to flying machines. will be interesting to see if the foils are going to go the distance, would seem they are a mean ace in a rough seaway, wouldn't the foil be an irregular drag ? Did wonder why they went so far NW when there was such a good breeze almost abeam for the southerly heading, maybe just making as much of the Westering that needs to be done.

I have a 9.2M Spencer using a SimradTP32. Steers to wind/compass/plotter via NMEA0813 and hasn't missed a beat in 15years. Highly recommend it

I have my 1971 Spencer insured 3rd party only with The Marina Shop www.themarinashop.com

Have looked at that boat for some time trying to work out Why ! Is very odd.